Welcome to QUARTO! We are an artist-duo, Anna af Sillén de Mesquita and Leandro Zappala, collaborating since 2003. Feel free to read more about US and check out our PERFORMANCES or Send us a mail.
QUARTO's NEW WORK > THISENTANGLEMENT
World premiere at Moderna Museet (Museum of Modern Art in Stockholm) – 29th + 30th of September + 1st of October 2017 > more info to come soon at modernamuseet.se/ !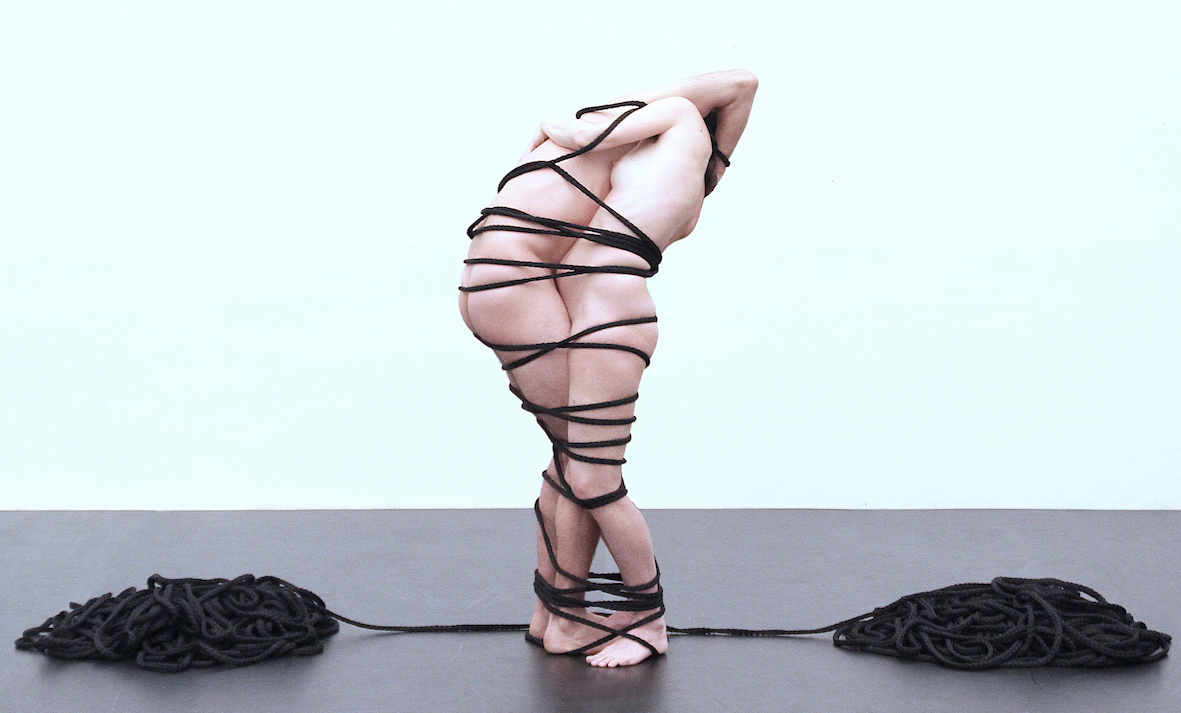 THISENTANGLEMENT – This durational piece – two bodies captured in 1000 meters of black rope – is unfolding from previous performance KNOT BODY. The work is navigating the transitional space that is trespassing the object/subject divide through an ongoing metamorphoses of a massive black tread: a pile of it becomes a lasso, a whip, a snake, and then a huge knot, a multidimensional pattern, an accidental spatial ornament, a labyrinth, a sprawling mass entwining, hiding, revealing, becoming the bodies that it connects and divides. In the process, gaps in-between conventional binaries of gender (male/female) and substance (presence/absence) are revealed and inhabited. The blackness of the rope in the obscurity of the space in contrast to the skin of the naked bodies is invoking an animistic ritual, which seems to imbue an utilitarian object with movement energy, awakening its own inner life.
TOUR
Performance DURATIONAL ROPE
18 OCTOBER 2017
FIERCE FESTIVAL HUB – QUANTUM EXHIBITION CENTRE, 30-34 RIVER STREET, DIGBETH / Birmingham, England
Performance BEAUTY OF ACCIDENT
11 March 2017
FRASCATI THEATER – SOMETHING RAW Festival / Amsterdam, Netherlands
Performance DURATIONAL ROPE
26 April 2017
SURSOCK MUSEUM – BIPOD Festival / Beirut, Lebanon
5 / 6 May 2017
DONAU Festival / Krems, Austria
Performance KNOT BODY
12 / 13 May 2017
REPLAY – MDT STOCKHOLM / Sweden
____________________________________________
KNOT BODY
Developed in artistic residence at: Uferstudios Berlin, MDT Stockholm, Inkonst Malmö and Cullberg Ballet.
A pragmatic and philosophical research involved with a Knot Body.
The body has for centuries been and still is associated with certain fields of history: memory, class, utility, gesture, gender, etc. It is a construction that is linked to a representation of a social order (which strives for functionality as a means for behaving within the norms), that in it self is already an imposition to embody.
Considering that our attention lies in the experimentation between body and a 1000m long rope – rope-body, body-node, empty-body, body-knots – as an attempt to escape from the bodies daily attributes and give it an unsuspected meaning, beyond the understanding of a representative body/object relation. Thereby, what is provoked with the KNOT (the experimentation with the KNOT/entanglement) seems radical for us, because it intends to abandon some recognizable forms, movement and choreography that have been dominant, and points to a path outside the historic domination, while dealing with an object that is one of the oldest and most important inventions of mankind: the rope, the knot.
This 'Knot Body' is revealed in the moment we experience it entangled in the rope, where the limit between body and knot is defuse. Precisely in this place we witness the creative potentiality of the body through liberating it from its social representations, such as gender. The KNOT seeks to produce a space, an image, and a fragment where the body is involved with the rope: winding/unwinding, tangling/untangling, pulling, raveling and then unraveling it again. This leads us to the driving questions: how do we go beyond the significance previously attributed to the body? What problems appear in this relation? Where can this research lead us when trying to re-signify the relation between body & knot?
This project is co-produced by MDT, Inkonst and the Cullberg Ballet and is part of the framework of the "Life Long Burning" programme supported by the Culture 2013-2018 Programme of the European Union and the Cullberg Ballet.
Supported by: The Swedish Arts Council, Stockholm's Culture Committee and The International Dance Programme – The Swedish Arts Grants Committeé's International Programme for Dance Artists.